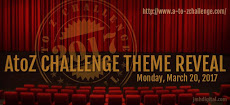 A to Z Blog Challenge 2017: Theme Reveal – What if…?
Last year was my first attempt at the A to Z Blog Challenge. I really enjoyed it. I spent that period of writing, focussing on things I knew about. I wrote about Life's Choices and Life's Changes. I wrote about things in my life that I had experienced, what decisions I made, what I learned or gained from those experiences and decisions. So what's left for me to do this year? I could, if I desired, write about the same theme. At 66 years of age, I certainly have had enough experiences to come up with more ideas for changes and choices. But I want to try something new.
I asked my family and friends for ideas for what I should have as my theme. "What if you wrote about the same thing?" "What if you wrote about teaching?" "What if you made up stories?" "What if you wrote about storytelling?'
Listening to all of their ideas there appeared to be an over-riding theme. It occurred in all of their suggestions. "What if…?
I now had my theme. I plan on using each of my What ifs…? on each letter of the alphabet. Now all I have to do is figure out what to do for each letter. To do that I brainstormed myself and with the help of my family, friends and students that I told about this challenge, who knew about what I did last year. This gave me lots of ideas to write about. I'll share all those ideas in my reflection writing at end of the challenge. You can read about what I chose as the days go on, once the Challenge begins. What if … something happens to me before I begin writing? We'll that's always a possibility. I guess you'll find out on April 1st.